2016 new arc welding machine introduce
We,Zhejiang Yongkang Dancy Machine Co.,Ltd always commit to provide the most innovative and cost-effective solution for welding and cutting every year.
Thanks of our engineers and workmates hard job,ARC-V5 series ARC Welding Machine get sucessful ! It has lots of advantage,please check it as follows,
Product range of ARC-V5 series
ARC140, ARC145, ARC160, ARC180, ARC200, ARC250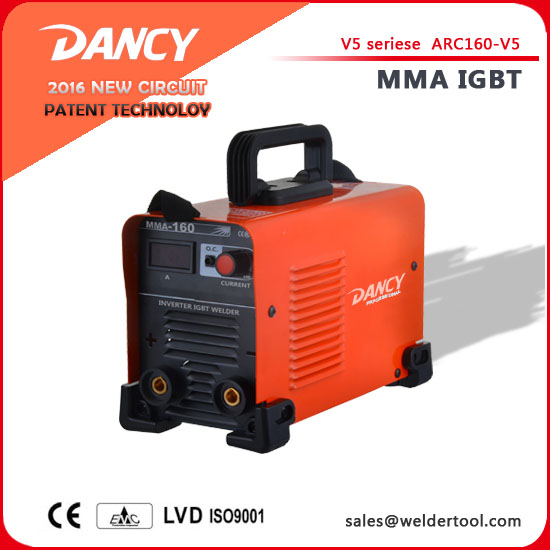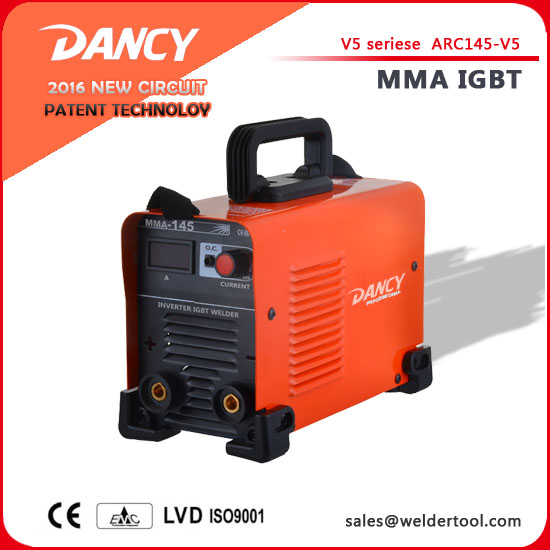 2016 new model ARC welding machine ,with updated circuit design
Advantage:
.The main components are designed to put far away from the wind crossing,they are protected against dust.
.Frequency is up to 65KHZ,responding faster and accuracy.
.Apply SAP technology,protect IGBT and DIODE sharply.We have applied patent for it.
.High-power radiator components is settled,high efficiency cooling,extends machines' working life.
.We found out 95% of the machine broken because of IGBT damage at short circuit.We apply SAP technology,the voltage drop automatically while machine get short circuit.The reliability of IGBT improve greatly and avoid explosion.
.Very high and reliable quality.
Affordable,Light Weight,Extremely small package
Perfectly suitable for home use portable,manual electrode arc welding.
Excellent performance,simple operation,small package,designed to serve the purpose of household maintenance welding job.
Characteristic
1. Do it yourself in your home with the way you like
2. IGBT Technology, the core adopts advanced IGBT
inverter device.
3. Intelligent Protection, over loading or over heating
4. Self-adaptive Arc Force, makes welding much easier
5. Anti-Stick, Hot Start, ensures easy removal of the electrode
6. Stable & Reliable performance, makes welding enjoyable
7. Auto compensate voltage fluctuation, takes wider voltage inputs